Events
Jun
20
Sat
The Llandovery Castle: Watch Now on YouTube
THE LLANDOVERY CASTLE
Watch now on YouTube

Watch the first fully-staged production of The Llandovery Castle on YouTube.
The opera brings to life an important an important but little-known part of Canadian history. It is a beautifully-expressed tribute to Canadian nurses in particular, and healers in general who for millennia have put themselves in harm's way to serve their communities and humankind.
Grab your favourite snacks, find a comfy seat, and get ready to experience York University Department of Music Professor, Stephanie Martin & York University Alumni, Paul Ciufo's joyous and inspiring music drama.
EVENT INFORMATION
THE LLANDOVERY CASTLE
YouTube Event Link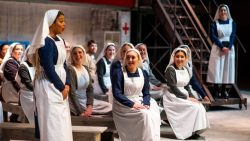 ABOUT
The opera centres on the 14 nurses of the hospital ship Llandovery Castle who served in harrowing circumstances throughout the war, their care and compassion contrasting with the chaos and violence surrounding them.
With music by Stephanie Martin and libretto by Paul Ciufo, the opera spotlights in particular the lives of Minnie 'Kate' Gallaher and Rena 'Bird' McLean, the latter traumatized by earlier battlefield-area nursing, and her quest to prove herself ready to return to the Front. Bird seeks to convince her superior, Matron Margaret 'Pearl' Fraser, that she is strong enough to serve close to the action once more, little imagining the fatal turn their assignment would take.
The music of The Llandovery Castle skirts boundaries of genre and style. Scored for a sonorous classical chamber orchestra and nine singers, it has been described as "a modern flirtation between baroque, classical, traditional and popular genres." Composer Stephanie Martin describes this operatic style as "21st-century bel canto", focused on the narrative and expressive power of the human voice.