Nov
22
Sun
Theatre@York presents hagsantigone 2020
Nov 22 @ 6:00 pm – Nov 29 @ 9:30 pm
Theatre@York presents hagsantigone 2020
You are cordially invited to the opening of the new and reimagined 2020-21 Theatre@York season. We are delighted to present:
The Antigone Play by Theatre & Performance Studies PhD candidate, Tabia Lau, directed by David Jansen. A contemporary adaptation of Sophocles' ANTIGONE. Tig is distraught to find that her Uncle Chris is making drastic changes to her family's restaurant, which her beloved grandmother opened years ago as a recent immigrant and refugee. Outraged by what she sees as a betrayal of the family, Tig starts an online campaign to stand up to her uncle, save the legacy of the restaurant, and restore her family's honour. As the campaign catches fire, Tig considers just how far she must go.
The Antigone Play opens on Tuesday, November 24 at 7:30pm
HAGS by York Theatre alum, Aaron Jan, directed by David Jansen. A dark, rapid-fire comedy that explores the limits of forgiveness in vengeful millennials and Gen Zs. When a team of online activists gathers to recruit their newest member, the group is Zoom-bombed by the alt-right, leading to a night of violence and a settling of old scores. HAGS asks: how do we find satisfying justice in online spaces? When do we go too far in our pursuit of a better world?
HAGS opens on Wednesday, November 25 at 7:30pm
Tickets are free of charge. Online reservations for opening night, or any of the other performances, can be made at:
The Antigone Play: https://www.eventbrite.ca/e/the-antigone-play-tickets-128502884587?aff=erelpanelorg
HAGS: https://www.eventbrite.ca/e/hags-tickets-128505546549?aff=ebdssbonlinesearch
Once you register for your ticket at Eventbrite a confirmation message will pop up on your screen. Afterwards, you will receive a confirmation email 24 hours before the livestream begins including a one-time access Youtube link for the livestream.
For full program details and bios, please see: https://hagsantigone2020.wordpress.com/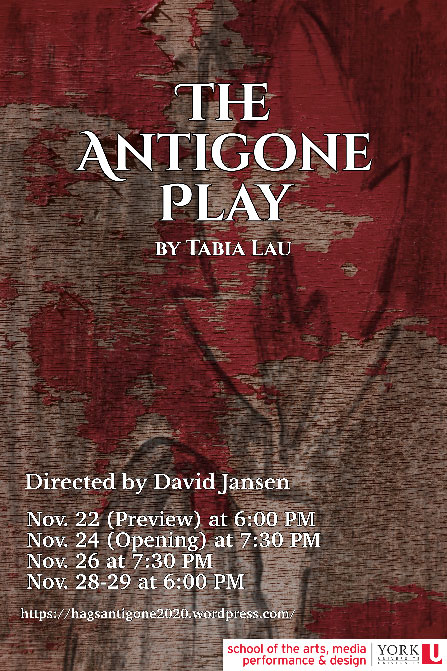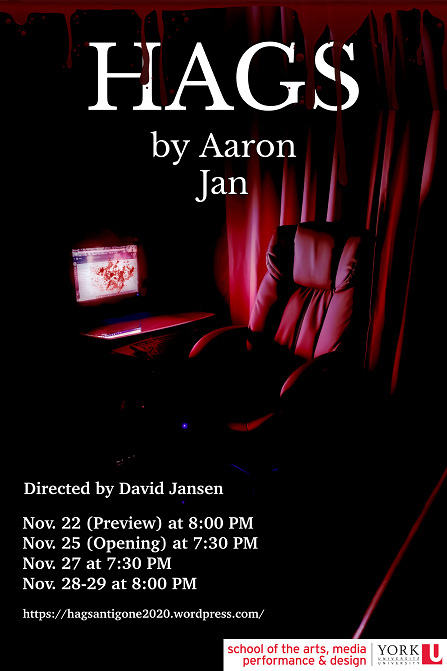 Nov
30
Mon
Music Audition Prep Workshop 2020
Nov 30 @ 3:00 pm – 4:00 pm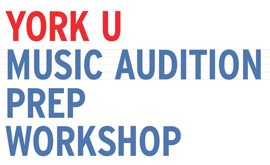 MONDAY, NOVEMBER 30, 2020
3:00 PM – 4:00 PM
(meeting room will be open at 2:30 pm but session will begin at 3:00 pm)
FREE
Register Here
Want to study music at York?
Our Music Audition Prep Workshop is for you!
In this 60-minute session, you will:
learn how to prepare for all the elements of our music audition: sight reading, performance and interview
get tips on how to choose your audition pieces
find out more about our music program and admission process
Bring your questions! Friends and family are welcome.
Admission to the Music Audition Prep Workshop is free but pre-registration is required.
Reserve your spot now. Register here. After registering, you will receive a confirmation email containing information about joining the meeting.
We look forward to meeting you!