Events
Jun
10
Wed
Department of Theatre: Class of 2020 Gradzoomation Celebration
Jun 10 @ 11:30 am – Jul 15 @ 1:00 pm
Department of Theatre
presents
Class of 2020
Gradzoomation Celebration
The Class of 2020 Gradzoomation Celebration is now available on YouTube.
YouTube: http://youtu.be/7MTW7FdyNeA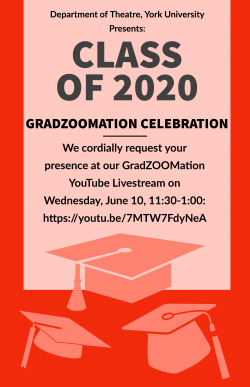 Jun
20
Sat
Peripheral Vision Speaker Series: Online
Peripheral Vision Speaker Series: Online
Did you know that the 2019 Peripheral Visions Speaker Series lectures are available online? Check out the Peripheral Visions Speaker Series website for more information regarding the series, featured speakers and ongoing work!
Running from January 2019 to March 2019, the Peripheral Vision Speaker Series presented scholars/artists working within critical disability and Indigenous frameworks to address vision, blind epistemology and art, crip technoscience, and Indigenous visioning practices. The series explored and critiqued the primacy of vision, problematizing the normalcy of 'perfect' vision, and worked to innovate blind and multi-sensory ways of knowing.
Curated by Mary Bunch, Laura Levin and Lauren Sergio the Peripheral Vision Speaker Series was hosted by York University's Sensorium: Centre for Digital Arts and Technology in the School of Art, Media, Performance and Design. The series was sponsored by SSHRC, CREF, VISTA -Vision: Science to Applications, The Departments of Theatre and Cinema and Media Arts, the Performance Studies (Canada) Speaker Series and the Graduate Program in Critical Disability Studies. Other partners included Bodies in Translation: Activist Art, Technology and Access to Life, Tangled Art + Disability, and the New College Disability Studies Speaker Series at the University of Toronto.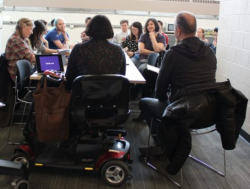 Toasterlab: Mixed Reality Performance Symposium At York

Mixed Reality Performance Symposium: York
If you were unable to attend the November 5, 2019 Toasterlab Mixed Reality Performance Symposium at York University you can now view recordings of live webcast presentations and panel discussions here.
The Mixed Reality Performance Symposium: York is the first of six symposiums hosted by mixed reality producers Toasterlab, and will explore extended and mixed reality performance. Artists and new media creators will share modes of working and recent successes in VR, AR, and immersive theatre.
Projects include: 
TrailOff – Swim Pony, Adrienne Mackey, Artistic Director (Philadelphia)
The Stranger 2.0 – Dopolavoro Teatrale (DLT), Daniele Bartolini, Artistic Director (Toronto)
Public2 – Jane Gotch Dance, Jane Gotch, Choreographer (Toronto/Kansas City)
Blue Hour/36Q – Blue Hour/36Q, Paul Cegys, Project Leader (Prague)
Parkway Forest VR – Friends of Parkway Forest Park, Toasterlab (Toronto)
Jacqueiries – Jacob Niedzwiecki (Toronto/Calgary)
Groundworks – Dancing Earth Creations: Groundworks (San Francisco)
HistArch3D – Harrison Forsyth, York University (Toronto)
After Dan Graham – David Han, York University (Toronto)
Funded by the Canada Council for the Arts, Toasterlab's Mixed Reality Performance Atelier is a two-year deep dive into the current mixed reality methods used by theatre and performance makers across Canada and the U.S. Every four months, an Atelier cohort will present progress on their projects at a symposium hosted by Toasterlab in partnership with a university and the Atelier's advisory board. When the Atelier concludes in June 2021, Toasterlab will share open source tools, guidelines, and instructional material for the creation of immersive media in an arts context.
Toasterlab creates place-based extended reality experiences that promote deeper engagement with history, community, and imagination. Toasterlab combines expertise in storytelling, theatrical and media production, and the development of new technology to produce both original work and partnerships. Our work ranges from live site-specific live performance to bespoke mobile applications and VR films, and often combines a variety of approaches to collapse time and space for the delivery of impactful narratives. From the largest festivals to community youth workshops, we build accessible ways to understand places in whole new ways.
Sponsored/Supported by: 
Sensorium: Centre for Digital Arts and Technology
Canada Council for the Arts
Jul
20
Mon
Theatre Devising Starter Kit: Tools to Create from Scratch
Jul 20 @ 1:00 pm – Jul 31 @ 1:00 pm
The "Theatre Devising Starter Kit" will offer a series of FREE online lessons, workshop activities, collaborative opportunities, and feedback sessions for high school students interested in learning how to devise original theatre pieces from scratch. This 2 week, six session online course is aimed at students in grade 11-12 or 1st/2nd year post-secondary students interested in creating their own performance based work from scratch. Student will learn new lessons/activities each day led by professional artist educators, Aaron Jan, Lucy Powis, Luke Reece, & Autumn Smith. See full bios below.
Dates: July 20, 22, 24, 27, 29, 31
Time: 1:00 pm
Location: Zoom (Zoom details to be sent to those who Sign Up using the link below)
Interested students can sign up via SignUp Genius: https://www.signupgenius.com/go/70A054DA9AA22A2F58-theatre
Contact: autumndsmith@hotmail.com for more info
Guest Artist Biographies
Aaron Jan
Aaron Jan is a Hamilton-born playwright, director and dramaturg. He has worked as a creator with Factory Theatre, Canadian Stage, Native Earth Performing Arts, Theatre Aquarius, Cahoots, fu-GEN Asian Canadian Theatre, the Stratford Festival and the Next Stage Theatre Festival. Aaron is a member of the critically acclaimed, Silk Bath Collective, whose production of Yellow Rabbit enjoyed a sold-out run as a part of Soulpepper's 2018/2019 season. Aaron is the 2019 winner of the Ken McDougall directing award and has served as TAC theatre projects juror, a TAC Arts in Parks juror, an RGTC Juror with Cahoots theatre as well as an OAC Chalmers Fellowship Juror.
Lucy Powis
Lucy Powis graduated from York University's theatre program with specializations in devised theatre and dramaturgy. While living in Toronto, she worked in Soulpepper Theatre Company's education department and on productions with Theatre Asylum, Theatre Aquarius, Buddies in Bad Times, Little Black Afro, Then They Fight, SummerWorks Performance Festival, and the Hamilton and Toronto Fringe Festivals. She moved to New York City to pursue her MFA in Dramaturgy at Columbia University and now lives there, working in the literary division at A3 Artists Agency and as a freelance dramaturg and producer. She previously held seasonal positions in the artistic/literary departments at Roundabout Theatre Company, Williamstown Theatre Festival, and Lincoln Center for the Performing Arts. www.lucypowis.com
Autumn Smith
Autumn is a director, artist educator and consultant. She is the current Artistic and Executive Director of Littlewoodsmith, a theatre company that brings quality theatre performance and education to the Muskoka Region. Autumn holds an MFA from York University in Theatre Direction with an Emphasis on Teaching and is a conservatory trained actor (Oxford School of Drama/UK). Ms. Smith is a member of the Faculty at AMPD (York University) Centennial College and University of Toronto. As a director and educator Ms. Smith led the Dora Award winning company MacKenzieRo for over a 9 year period in addition to working with companies such as: The Shaw Festival, The Tarragon Theatre, Stratford Festival, National Ballet, Theatre Passe Muraille, The Paprika Festival, George Brown Theatre School, Stagedoor Manor in Association with the American Theatre Wing, StageWest Mississauga, Theatre 20, The Druid Theatre/Galway and the Oxford Playhouse/UK. Most recently, Autumn curated and directed Territorial Tales for Canadian Stage, Oh, What A Lovely War! for Hart House Theatre and is set to direct and choreograph Citronella for the Gravenhurst Opera House 2021 season. Autumn also has a musical theatre podcast that she co-hosts called Before the Downbeat.
Luke Reece
In a failed attempt to escape Presto, Luke Reece left his hometown of Mississauga under the guise of becoming a Toronto-based artist. He is a theatre producer, playwright, spoken word poet, and arts educator. He is the Producer for Canada's leading culturally specific theatre company, Obsidian Theatre, and a Member of the Toronto Poetry Project. He continually seeks opportunities to empower and support young-in-craft artists with his collective Little Black Afro Theatre, creating spaces for artists to develop work with and for the communities they come from. Through his work as an artistic leader within the national arts community, he advocates for engaging and nuanced storytelling that challenges Canadian audiences. Luke is one of Toronto's most decorated slam poets, becoming the Toronto Poetry Slam (TPS) Grand Champion in 2017, winning the Canadian Festival of Spoken Word as the captain of the TPS team and then again in 2018 as the team coach. In 2018 he placed 2nd in Canada individually which earned him a spot representing the country at the 2019 World Cup of Poetry Slam in Paris France where he placed 4th. Most recently Luke has been featured performing for Toronto Raptor and NBA Champion Serge Ibaka on his Instagram Talent Show.