Events
Mar
5
Thu
2020 Wendy Michener Lecture: Wafaa Bilal (Performing Change)
Mar 5 @ 12:00 pm – 2:00 pm
The Wendy Michener Memorial Lecture presents Wafaa Bilal (Performing Change)
Wafaa Bilal will discuss specific bodies of work including Domestic Tension (aka Shoot an Iraqi), The Things I Could Tell…, and his most recent project 168:01, elaborating on the evolution of his work and reflecting on his personal experiences living in both the conflict zone of Iraq and the comfort zone of the United States. Bilal's work explores both the trauma of conflicts and post-conflict relationships through social engagement.
His dynamic, participatory work blends technology and performance to engage viewers in dialogue and places him in the role of the artist as platform initiator, helping to shift and change the distribution channels in the media. The controversial aspects of his work spark deeper conversation and provoke passive viewers to take an active stance with regard to social justice and their own personal/political realities
Location: Tribute Communities Recital Hall
Time: 12:00-2:00pm
Admission is free; all welcome.
The Wendy Michener Lecture, named in commemoration of the Canadian arts critic and journalist, was established at York University in 1986 to provide a forum for discussion of vital issues and developments in culture and the arts.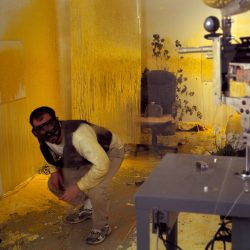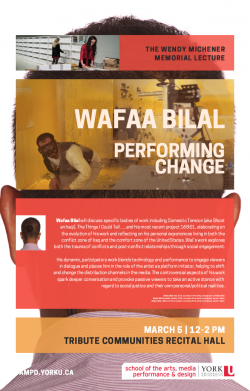 Mar
9
Mon
Mental Health Week at Winters College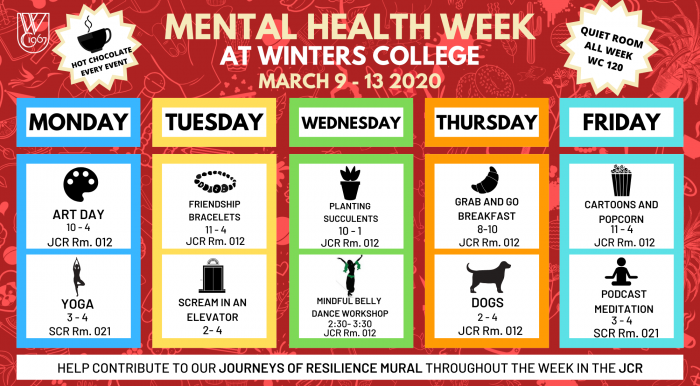 Join us at Winters College from Monday, March 9 to Friday, March 13 for Mental Health Week! Feeling overwhelmed? Come plant succulents with us. Need an excuse to move your body? Join us for some mindful belly dancing. We have multiple events throughout the week to relax, recharge and re-energize.
Winters College understands how stressful and overwhelming this time of year is – but we got you. Have a hot chocolate and add to our Journeys of Resilience Mural available in the JCR all week long for anyone to share their story.
Come self-care with us!