Nov
20
Tue
DIY Holiday Crafts
Nov 20 @ 1:00 pm – 4:00 pm
Mar
9
Mon
Mental Health Week at Winters College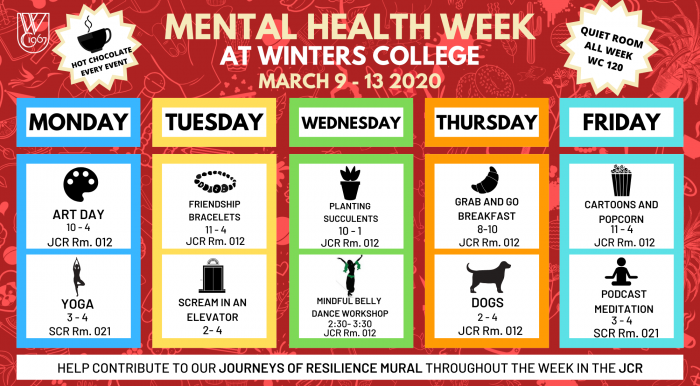 Join us at Winters College from Monday, March 9 to Friday, March 13 for Mental Health Week! Feeling overwhelmed? Come plant succulents with us. Need an excuse to move your body? Join us for some mindful belly dancing. We have multiple events throughout the week to relax, recharge and re-energize.
Winters College understands how stressful and overwhelming this time of year is – but we got you. Have a hot chocolate and add to our Journeys of Resilience Mural available in the JCR all week long for anyone to share their story.
Come self-care with us!
Mar
11
Wed
Belly Dance as Mindful Movement for Stress Reduction
Mar 11 @ 2:30 pm – 3:30 pm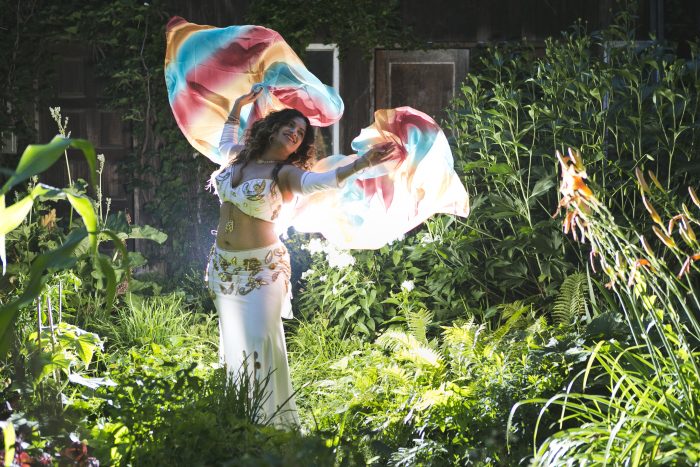 Belly Dance as Mindful Movement for Stress Reduction
This movement-based workshop utilizes belly dance vocabulary designed for self-soothing. Learn movements that support the reduction of stress and anxiety symptoms. Participants will leave with applications on how stress responses can be experiences on a spectrum from hyper-arousal (feelings of overstimulation) to hypo-arousal (feelings associated with low-energy or burnout). Belly dance used as mindfulness offers gentle wavey movement designed to down-regulate physical stress responses. This workshop also combines more energizing vocabulary through shimmying and shaking as well as core engagement to support up-regulation of the nervous system, based on internal rhythm and percussion.
About the Facilitator :
Shaila is completing her Masters in Dance at York University. She concurrently training as a Dance Movement Therapist through the National Centre for Dance Therapy in Montreal. Her work focuses on belly dance practices that use sensuality as a healing tool within dance interventions. Her movement offerings look at building resiliency, decoupling stress responses and promoting body positivity. Shaila provides a unique framework that maps belly dance vocabulary for nervous-system regulation. Shaila has been an active member of the Toronto belly dancing community for over a decade, both as a performer and instructor. She currently works as a Health Educator and Training Specialist and enjoys offering students training on mental health and well-being.