Events
Mar
6
Fri
NOISE: York University Department of Visual Art & Art History Senior Studio Exhibition at Gallery 1313
York University Department of Visual Arts and Art History
presents
NOISE
Senior Studio Exhibition
'Noise' is an exhibition of work by the two senior studio classes, Installation & Painting, in the Department of Visual Art & Art History, York University. Bringing together the work of about fifty students who work in a diversity of contemporary styles & media, the exhibition is both a culmination of their BFA and a launching pad to their futures.
Date: March 6-14, 2020
Opening Reception: Saturday, March 7, 2:00-5:00pm
Gallery Hours: Wednesday – Sunday, 1-6pm
Address: 1313 Queen Street West, Toronto, ON
Free Admission
Gallery 1313 website: g1313.org
Gallery 1313 phone: 416-536-6778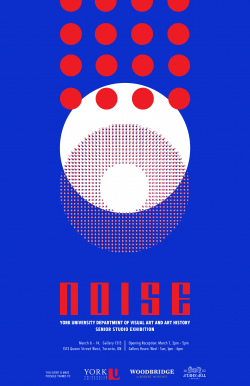 Mar
25
Wed
York Dances: Luminous Surroundings | Dusk and Dawn
York Dances: Luminous Surroundings
Luminous Surroundings features exciting new choreography of 24 up-and-coming third year choreographers.
Artistic Director: Tracey Norman
Luminous Surroundings presents 24 original works in two 60-minute programs:
Dusk (Series A) – 7:00 pm
Dawn (Series B) – 8:30 pm
Admission is $10 for each program.
March 25 – 26, 2020
McLean Performance Studio (244 Accolade East Building)