Events
Mar
25
Wed
York Dances: Luminous Surroundings | Dusk and Dawn
York Dances: Luminous Surroundings
Luminous Surroundings features exciting new choreography of 24 up-and-coming third year choreographers.
Artistic Director: Tracey Norman
Luminous Surroundings presents 24 original works in two 60-minute programs:
Dusk (Series A) – 7:00 pm
Dawn (Series B) – 8:30 pm
Admission is $10 for each program.
March 25 – 26, 2020
McLean Performance Studio (244 Accolade East Building)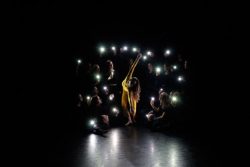 Music @ Midday: York University R&B Ensemble
Mar 25 @ 12:30 pm – 2:30 pm
Professor Mike Cadó directs the York University R&B Ensemble in a show-stopping performance of soul and funk music.
The concert will feature the music of Earth Wind and Fire, Tower of Power and many other great artists.
Admission is free and open to everyone.