Events
Mar
5
Thu
2020 Wendy Michener Lecture: Wafaa Bilal (Performing Change)
Mar 5 @ 12:00 pm – 2:00 pm
The Wendy Michener Memorial Lecture presents Wafaa Bilal (Performing Change)
Wafaa Bilal will discuss specific bodies of work including Domestic Tension (aka Shoot an Iraqi), The Things I Could Tell…, and his most recent project 168:01, elaborating on the evolution of his work and reflecting on his personal experiences living in both the conflict zone of Iraq and the comfort zone of the United States. Bilal's work explores both the trauma of conflicts and post-conflict relationships through social engagement.
His dynamic, participatory work blends technology and performance to engage viewers in dialogue and places him in the role of the artist as platform initiator, helping to shift and change the distribution channels in the media. The controversial aspects of his work spark deeper conversation and provoke passive viewers to take an active stance with regard to social justice and their own personal/political realities
Location: Tribute Communities Recital Hall
Time: 12:00-2:00pm
Admission is free; all welcome.
The Wendy Michener Lecture, named in commemoration of the Canadian arts critic and journalist, was established at York University in 1986 to provide a forum for discussion of vital issues and developments in culture and the arts.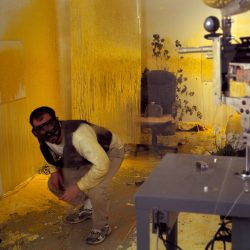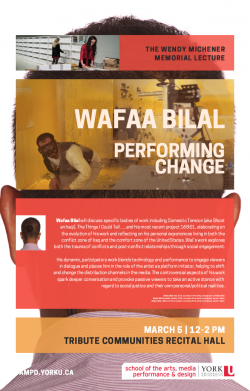 Mar
6
Fri
NOISE: York University Department of Visual Art & Art History Senior Studio Exhibition at Gallery 1313
York University Department of Visual Arts and Art History
presents
NOISE
Senior Studio Exhibition
'Noise' is an exhibition of work by the two senior studio classes, Installation & Painting, in the Department of Visual Art & Art History, York University. Bringing together the work of about fifty students who work in a diversity of contemporary styles & media, the exhibition is both a culmination of their BFA and a launching pad to their futures.
Date: March 6-14, 2020
Opening Reception: Saturday, March 7, 2:00-5:00pm
Gallery Hours: Wednesday – Sunday, 1-6pm
Address: 1313 Queen Street West, Toronto, ON
Free Admission
Gallery 1313 website: g1313.org
Gallery 1313 phone: 416-536-6778