Events
Mar
5
Thu
2020 Wendy Michener Lecture: Wafaa Bilal (Performing Change)
Mar 5 @ 12:00 pm – 2:00 pm
The Wendy Michener Memorial Lecture presents Wafaa Bilal (Performing Change)
Wafaa Bilal will discuss specific bodies of work including Domestic Tension (aka Shoot an Iraqi), The Things I Could Tell…, and his most recent project 168:01, elaborating on the evolution of his work and reflecting on his personal experiences living in both the conflict zone of Iraq and the comfort zone of the United States. Bilal's work explores both the trauma of conflicts and post-conflict relationships through social engagement.
His dynamic, participatory work blends technology and performance to engage viewers in dialogue and places him in the role of the artist as platform initiator, helping to shift and change the distribution channels in the media. The controversial aspects of his work spark deeper conversation and provoke passive viewers to take an active stance with regard to social justice and their own personal/political realities
Location: Tribute Communities Recital Hall
Time: 12:00-2:00pm
Admission is free; all welcome.
The Wendy Michener Lecture, named in commemoration of the Canadian arts critic and journalist, was established at York University in 1986 to provide a forum for discussion of vital issues and developments in culture and the arts.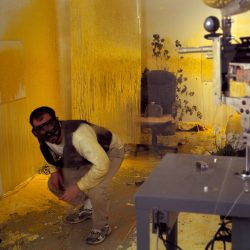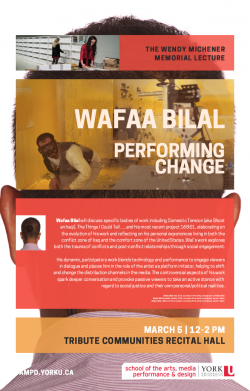 Apr
3
Fri
York University Gospel Choir
The York University Gospel Choir directed by Professor Karen Burke presents a rafter-raising concert of works by Hezekiah Walker, Edwin Hawkins, Kirk Franklin and other gospel greats.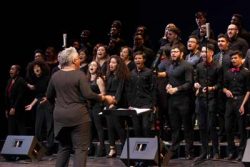 The 100+ voice choir is backed by a rhythm section directed by Corey Butler.
Karen Burke is a pre-eminent singer, music director, choral conductor and composer in the field of African-American vocal music. An authority on the history and performance practices of Gospel music, she has worked with many major choral ensembles and organizations including the Toronto Mendelssohn Choir and Youth Choir, Toronto Choral Society and Ontario Choral Federation, as well as numerous schools and church congregations. In 1988, she co-founded the Juno Award-winning Toronto Mass Choir and continues to serve as its principal director, touring nationally and internationally.
Admission: $15 | $10 students & seniors
Friday, April 3rd – 7:30pm – 9:00pm
Saturday, April 4th – 7:30pm – 9:00pm
Box Office: ampd.yorku.ca/perform/boxoffice | 416-736-5888