When:
January 17, 2020 @ 1:00 pm – 2:00 pm
2020-01-17T13:00:00-05:00
2020-01-17T14:00:00-05:00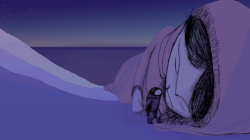 Please join us Friday, January 17th, for an Artist Talk with Taqralik Partridge and Nils Ailo Utsi from 1:00-3:00pm in the Sensorium Research Loft (4th Floor CFA, Room M333). RSVP to sensinfo@yorku.ca
Taqralik Partridge is a writer, spoken word poet and curator originally from Kuujjuaq, Nunavik, QC now living in Kautokeino, Norway.
Nils Ailo Utsi is an artist and animator from the Sámi community of Guovdageaidnu. He studied at the Mel Hoppenheim School of Cinema in Montreal. He has an animation bachelor of arts from the Norwegian University College of Volda. He has worked on "My moulton and me" (Academy Award) by Toril Kove and "Higgelty Piggelty Pop" by Chris Lavis, Maciek Szczerbowski.
This event is supported by the Department of Visual Art & Art History at York University, Sensorium: Centre for Digital Arts and Technology, Mobilizing Inuit Cultural Heritage and SSHRC.