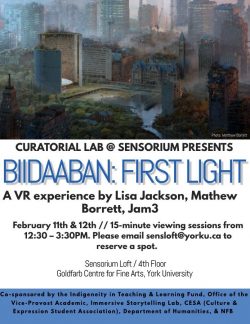 Rooted in the realm of Indigenous futurism, Biidaaban: First Light is an interactive VR time-jump into a highly realistic—and radically different—Toronto of tomorrow. As users explore this altered city now reclaimed by nature, they must think about their place in history and ultimately their role in the future. The VR environment was created using to-scale architectural models of Toronto's Osgoode subway station and the buildings surrounding Nathan Phillips Square. View the trailer here.
Due to a limited number of VR headsets, you are required to book your time in advance to experience this installation.
Dates: February 11th and February 12th, 2019 from 12:30pm-3:30pm
Please also join us for an artist talk with Lisa Jackson on February 13th, 2019 from 4:00pm to 6:30pm in the Senior Common Room at Vanier College (VC010).
Lisa Jackson (Anishinaabe) is one of Canada's most celebrated contemporary artists working in film and VR. In Biidaaban: First Light, Lisa joins forces with 3D artist Mathew Borrett to create a future for Canada's largest urban centre from an Indigenous female perspective.
Biidaaban: First Light appears at York as the inaugural installation in Sensorium's Curatorial Lab Series, which is curated in 2019 by Shalon Webber-Heffernan.