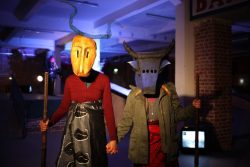 CLAUDIA SICONDOLFO
IN CONVERSATION WITH PAMELA PHATSIMO SUNSTRUM
on
THE DISRUPTER X PROJECT
Thursday, November 29, 2018
7:00 PM
Join us at the home of Sensorium Director Laura Levin for an evening of conversation between Sensorium Graduate Student Caucus member Claudia Sicondolfo (PhD student, Cinema & Media Arts) and Pamela Phatsimo Sunstrum (Visual Art & Art History faculty member). Following a screening of a short introductory video-documentary created by Pamela and her collaborator, Thenjiwe Niki Nkosi, Claudia and Pamela will be discussing THE DISRUPTER X PROJECT.
THE DISRUPTER X PROJECT is an ongoing collaboration between Pamela Phatsimo Sunstrum and Thenjiwe Niki Nkosi. The artists liberally describe this multimedia performance work as an 'anti-opera'. The world of the anti-opera is created by video projections, live internet streaming, dioramas, holograms, handmade replicas of archival objects, original music created from archival instruments and live performers. 'IF YOU DO IT RIGHT' was the first iteration of the project and was performed in Nantes, France in 2013. In 2014 they presented 'DISRUPTERS, THIS IS DISRUPTER X' in Bayreuth, Germany. In 2015 they installed 'NOTES FROM THE ANCIENTS' in Johannesburg, South Africa.

Claudia Sicondolfo is a Vanier Scholar and doctoral candidate at York University (Cinema & Media Arts). Her doctoral research project examines educational and community outreach building within Canadian digital screen institutions, collectives, and film festivals. Claudia has worked extensively with educational communities across Canada and has published companion curriculum for interactive and traditional documentaries, including Highrise and Offshore. Her writing has also been published in Public Journal and is forthcoming in Senses of Cinema. She is co-chair of the Toronto Film and Media Seminar.
Pamela Phatsimo Sunstrum is Assistant Professor in the Dept. of Visual Art & Art History. Her multidisciplinary work encompasses drawing and animation, and alludes to mythology, geology and theories on the nature of the universe. Her drawings, narrative landscapes that appear simultaneously futuristic and ancient, shift between representational and fantastical depictions of volcanic, subterranean, cosmological and precipitous landscapes.