When:
November 22, 2016 @ 5:00 pm – 7:00 pm
2016-11-22T17:00:00-05:00
2016-11-22T19:00:00-05:00
Where:
DisPersion Lab, 334 Joan & Martin Goldfarb Centre for Fine Arts, York University
86 Fine Arts Road
Troonto
Witness pure sonic-conceptual-compositional ingenuity in performance!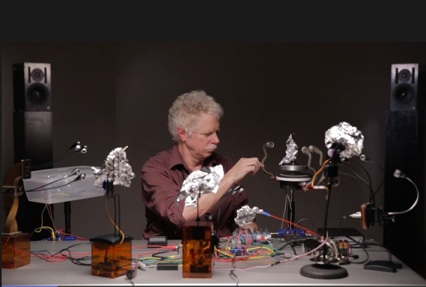 Composer and sound artist John Driscoll of Composers Inside Electronics  joins Professor Doug Van Nort, AMPD Canada Research Chair in Digital Performance and director of the DisPersion Lab, in a live, collaborative performance of electronic and electro-acoustic music.
Featured in the opening set is the Electro-Acoustic Orchestra, an ensemble of acoustic and electronic performers directed by Doug Van Nort. This sonic organism functions as both a York University music course and as a year-round resident ensemble for the DisPerSion Lab, where it integrates members of the larger Toronto improvising community.
On the program:
Impulsions – Phil Edelstein (2015)
Performer: John Driscoll
In this work, the performer distributes impulse recordings from resonant objects into the performance space, using a combination of the direct impulse recordings and transforming them through a convolution reverb to an array of output speakers or transduced objects.
Speaking in Tongues – John Driscoll (2012)
Performers: John Driscoll, Doug Van Nort
This piece has evolved from an interest in the use of resonance in acoustical spaces from the architectural to the microscopic. It utilizes a series of custom-built ultrasonic instruments that can be manipulated in various ways. Each instrument has a distinct voice and character due to its design and unique acoustical properties. These playful instruments function using ultrasonic feedback that is disturbed by small amounts of physical movement.
Microphone – David Tudor (1970)
Performer: John Driscoll
The original version of this work, created for the Experiments in Art and Technology Pepsi Pavilion at Expo '70 in Osaka, Japan, used modulated microphone feedback as with the sole sound source.  A second realization was made by Tudor at Mills College in 1973, and recordings from it are used in today's live performance.
Admission is free. All welcome.