When:
March 20, 2017 – March 26, 2017
all-day
2017-03-20T00:00:00-04:00
2017-03-27T00:00:00-04:00
Where:
209 and 207 Accolade East Building, York University
83 York Blvd. Toronto
Contact:
YorkU Devised Theatre Festival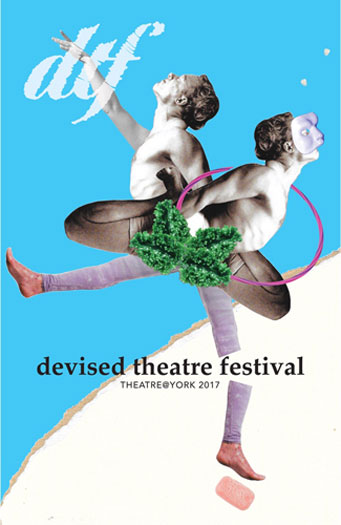 The Devised Theatre Festival premieres four riveting new collaborative productions — each conceived, created, produced and performed by fourth-year students in Devised Theatre in the Department of Theatre's Performance Creation & Research program.
The playbill features an original musical about student and thespian life; an immersive physical theatre work about night terrors; a comedic cabaret about issues faced by Millennials; and a gripping interactive piece set in a circus that explores spectacle and loneliness under the big top.
Each show is presented by a production company formed by a student ensemble within Devised Theatre. Festival production managers are Kait Gallant and Shannon Farrell.
The Devised  Theatre Festival runs in two series, each presenting a double bill:
SERIES A
Cast! The Musical – Pretendtious Theatre
REM – SomatiKs Theatre
Performances
Mon. March 20 – 7:30pm (preview)
Wed. March 22 – 3:30pm
Thur. March 23 – 7:30pm
Fri. March 24 – 7:30pm
Sat. Mar. 25 – 1:30pm
SERIES B
Jennaration Y – NonCents Theatre
Inverted Spotlight – typo theatr
Performances
Tues. March 21 – 7:30pm (preview)
Wed. March 22 – 7:30pm
Fri. March 24 – 3:30pm
Sat. March 25 – 7:30pm
Sun. March 26 – 1:30pm
For full details about the shows, the production companies, the artists, and blog posts, visit the Devised Theatre Festival website.
Venue
The first show in each series takes place in Room 209, Accolade East Building. The audience then moves next door to Room 207 for the second show in the series.
Admission is by donation at the door (cash only).
Suggested donation: previews $5 | regular performances $7
Seating is limited. Sign up online to reserve your spot!