FACULTY CONCERT SERIES: DUO FORTE
Two of Canada's top pianists, Christina Petrowska Quilico and Shoshana Telner, team up under the name Duo Forte. Specializing in four handed piano repertoire, they have put together a program of dance music guaranteed to delight their audience. It will include Barber's Souvenirs, Gershwin's Cuban Overture, Arthur Benjamin's Jamaican Rhumba, Kapustin's jazzy Slow Waltz, Ravel's La Valse, and Piazzolla's Libertango, along with other gems sure to get you moving in your seats!
Admission: $15 | $10 for students & seniors.
Box Office: Purchase tickets online or phone 416-736-5888
Maps & Directions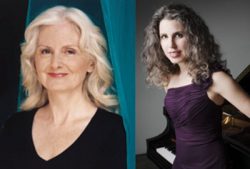 CHRISTINA PETROWSKA QUILICO
York University Music Professor Christina Petrowska Quilico's repertoire ranges from Baroque, Classical and Romantic to some 20 contemporary concerti out of 41 she has premiered or played, collaborating with such esteemed conductors as John Eliot Gardiner, Bramwell Tovey and Jukka-Pekka Saraste. Her recordings of eight Canadian concerti have earned three of her four JUNO nominations – one of them for Larysa Kuzmenko's concerto with the TSO and Maestro Jukka-Pekka Saraste. Her 50 CD catalogue includes the Healey Willan piano concerto, with Victor Feldbrill conducting the Taipei Symphony; and David Mott's Eclipse, which debuted on the Space Shuttle Atlantis.
CBC Music named Quilico one of 20 Can't-Miss Classical Pianists of 2014, and one of 2015's 25 Best Canadian Classical Pianists. She is a Full Professor of Piano and Musicology at York University, and founder of The Christina and Louis Quilico Award, administered by the Ontario Arts Council Foundation and held under the auspices of the Canadian Opera Company.
Photo by: Tim Leyes
SHOSHANA TELNER
Canadian pianist Shoshana Telner has performed from coast to coast and around the world. Described as an "authentic musician with a sparkling technique" (Le Droit) and "full of fire and warmth" (the New York Times), Telner has a passion for engaging audiences with exciting performances. She made her solo orchestral début with the National Arts Centre Orchestra at the age of 16 and has since performed as soloist with several orchestras including the Orchestre symphonique de Québec, the Boston Classical Orchestra, and the National Academy Orchestra.
Telner received a Bachelor's degree on full scholarship from Boston University, a Master's degree from the Juilliard School in New York, and a Doctorate in performance from McGill University. She has taught piano and coached ensembles at McGill University, the University of Ottawa, and Wilfrid Laurier University, and currently teaches piano at McMaster University. She frequently gives masterclasses, adjudicates competitions, and examines for the Royal Conservatory of Music.
Telner's recordings include solo works of Canadian composer Colin Mack (Cansona), the Grieg violin/piano sonatas with Jeremy Bell (Chestnut Hall Music) and the six Bach Keyboard Partitas (Centaur Records).
Photo by: Bo Huang