When:
October 28, 2019 @ 3:00 pm – January 4, 2020 @ 3:00 pm
2019-10-28T15:00:00-04:00
2020-01-04T15:00:00-05:00
Where:
Senior Common Room, 021 Winters College
York University
Contact:
Office Of The Head of Winters College
416-650-8199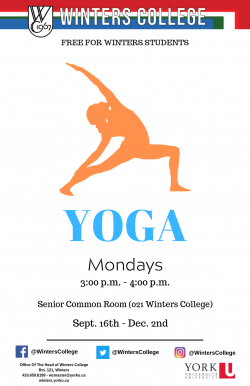 Mark your calendar!!! Starting Monday, September 16th, do your body some good by coming to our FREE drop-in yoga classes. Don't forget to bring a yoga mat and water bottle.