When:
April 2, 2019 @ 12:45 pm – 2:45 pm
2019-04-02T12:45:00-04:00
2019-04-02T14:45:00-04:00
Where:
Nat Taylor Cinema
N102 Ross Building
York University Keele Campus
Contact:
Department of Cinema & Media Arts
416-736-5149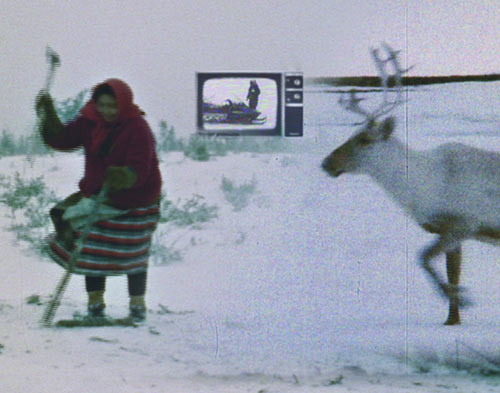 Experience archives through a personal lens with the short film program of Home Made Visible, Regent Park Film Festival's nation-wide archival project dedicated to works by Indigenous people and Visible Minorities.
Join us after for a panel discussion with filmmakers and YorkU MFA alums Jennifer Dysart and Aeyliya Husain; adjunct archivist Katrina Cohen-Palacios from YorkU Libraries; and Regent Park Film Festival's Elizabeth Mudenyo and Ananya Ohri.
Admission is free and all are welcome.
HOME MADE VISIBLE Film Screening + Panel at York University is presented by Archive/Counter-Archive, Regent Park Film Festival, York Cinema & Media Arts, & Nat Taylor Tuesdays
About Home Made Visible
Home Made Visible is a nationwide archival project by the Regent Park Film Festival. The Canadian archives are lacking in home movie footage from Indigenous people and Visible Minorities. As old film and videotapes threaten to fall apart with time, Home Made Visible works to preserve this history, celebrate the joy captured in home movies, and explore how archives have the power to shape who we become and how we relate to one another. HMV is currently on tour across Canada – find participating library branches near you HERE: http://homemadevisible.ca/tour/
About Archive/Counter-Archive
Archive/Counter-Archive: Activating Canada's Moving Image Heritage is a six-year project dedicated to researching and remediating audiovisual archives created by women, Indigenous Peoples, the LGBTQ2+ community, and immigrant communities. Political, resistant, and community-based, counter-archives disrupt conventional narratives and enrich our histories. A/CA is led by Professor Janine Marchessault and funded by a SSHRC Partnership Grant; the partnership is composed of four universities (York, Concordia, Ryerson, and Queen's), numerous communities, memory institutions, and policy advocates.