When:
November 10, 2018 @ 1:00 pm – 4:00 pm
2018-11-10T13:00:00-05:00
2018-11-10T16:00:00-05:00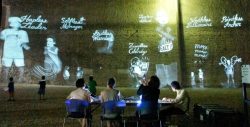 This workshop introduces tools, techniques and repertoire for combining analog drawing techniques with real-time digital tools for live performance, installation and public interventions. This methodology departs from the accessibility, expressivity and versatility of mark making with traditional tools (pencil, maker, paper, transparency). The strengths of the medium are then enhances with real-time video processing that allows artists and designers to record, loop, scale and overlay drawings to create complex animations created from simple drawings. The workshop will introduce participants to existing commercial tools for live video and projection mapping (Millumin), as well as custom tools created with frameworks common in new media art (OpenFrameworks, Max). Participants are encouraged to integrate their own tools and work into the workshop activities: bring your laptop, your phone, drawing or sketching tools, lighting implements, etc.
Saturday, November 10
1:00 – 4:00 PM 
Joan & Martin Goldfarb Centre for Fine Arts, Rm 024