JAZZ @ MIDDAY: Barry Elmes Quintet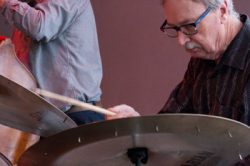 Barry Elmes: Drums
Mike Murley: Tenor Saxophone
Kevin Turcotte: Trumpet
Lorne Lofsky: Guitar
Steve Wallace: Bass
The quintet will perform selections from their recently released CD "Dog's Breakfast".
Barry Elmes Quintet
Cornerstone Records (cornerstonerecords.com)
Drummer Barry Elmes first formed his quintet in 1991, and through the years it's been a show- case for Canada's finest proponents of mainstream modern jazz as well as the leader's engaging compositions. Through the years, the group has had few personnel changes, adding to its sense of a collective personality.
The latest incarnation establishes its authority immediately with a performance of Freddie Hubbard's Little Sunfl wer, a modal anthem of the 60s imbued here with new vigour, from bassist Steve Wallace's pulsing ostinato through a string of sharply focused solos from trumpeter Brian O'Kane, guitarist Lorne Lofsky and tenor saxophonist Mike Murley, all of it carried along by Elmes' secure and lively drumming which comes to the fore at the conclusion.
The material is divided between Elmes' recent compositions and jazz standards. The former includes the witty title track, a subtle cool jazz episode that could readily substitute for a Mancini movie theme, while the floating Terminal 2 and the funky Pierre Berton'"Pig bring distinctly Toronto inspirations to the proceedings. The absolute highlights, though, are two standards. Murley brings a fine balance of silk, grit and lyricism to Spring Can Really Hang You Up the Most, while Lofsky's touch is unerring, compounding a glassy electric guitar sound with a striking melodic conception on Beautiful Love, a sustained trio performance with Wallace and Elmes that makes one hope for a CD devoted to the three.
Stuart Broomer (Wholenote December 2017 / January 2018)