When:
December 6, 2019 @ 7:30 pm – 10:00 pm
2019-12-06T19:30:00-05:00
2019-12-06T22:00:00-05:00
Where:
Small World Music Centre
180 Shaw St
Toronto
ON

Cost:
$10 General Admission | $5 Members
Contact:
Department of Cinema & Media Arts
416-736-5149
Lost and Found in Late Capitalism
Sponsored co-presentation with the Department of Cinema & Media Arts, School of the Arts, Media, Performance & Design.
Curated by Shahbaz Khayambashi, Co-Chair, Pleasure Dome.
Date|Time: Friday, December 6, 2019 | 7:30-10:00 PM
Place: Small World Music Centre | 180 Shaw St, Toronto, ON
Cost: $10 General Admission | $5 Member Rate or PWYC
In recent years, with the election of right-wing and fascist politicians around the world, the link between fascism and capitalism has become impossible to ignore. Existing somewhere between apocalypse and parody, the age of late capitalism has brought about dystopian ideals presented to its subjects as standard societal practices. Pleasure Dome's Lost and Found in Late Capitalism will attempt to speak truth to power by speaking power's language while capitalism continues to destroy our environment, wage wars on our people, and destroy our social fabric. This program consists of a series of short videos constructed from found footage, coming from a variety of formats, sources, and levels of legality. These videos use footage from Hollywood films, business promotional videos, public domain artefacts and military footage to tell stories of life under the thumb of capitalism. It is through this re-appropriation of the products of capitalism that today's artists can attempt to come to terms with the struggle of living under an unquestionable dictatorial system.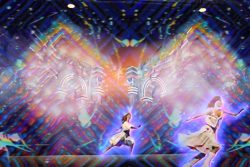 Follow Pleasure Dome 
Instagram and twitter: @ PleasureDomeTO
Facebook: @ PDomeTO
website: www.pdome.org
Image Credit: Beyond Human, Pete Burkeet (Ohio, USA), 2018.