When:
April 20, 2018 – April 26, 2018
all-day
2018-04-20T00:00:00-04:00
2018-04-27T00:00:00-04:00
Where:
Doris McCarthy Gallery, University of Toronto Scarborough
1265 Military Trail
Toronto, Ontario
M1C 1A4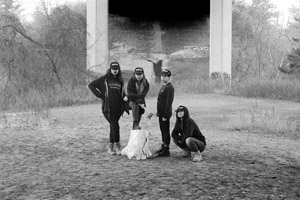 Tiffany Schofield
's MFA Thesis Exhibition 
of fiction and faction
 considers issues of ecological uncertainty, sustainability, and community building within the suburbs and examines the potential for revolution in suburbia, using Scarborough as its speculative case study. The exhibition's main feature, a two-channel video installation proposes two possibilities for collective action in suburbia: Scarborough Sourdough, a group of novice bakers establishing sourdough culture in Scarborough; and the Orange Jackets, a group of activists who donate orange high-visibility hoodies and engage in direct action. Integrating actual places and events within an imagined narrative, 
of fiction and faction
attempts to form an alternative archive, complicating familiar notions of Canadian suburban life while foretelling possible futures.
Tiffany Schofield is a Canadian artist and co-founder of Y+ contemporary, an artist-run space located in Scarborough.
of fiction and faction
April 20-26
Reception
Friday, April 20, 6-9PM
Location
Doris McCarthy Gallery
University of Toronto Scarborough
1265 Military Trail, Toronto, Ontario, M1C 1A4
Hours
Tuesday-Friday 11AM-4PM, Wednesday open late to 8PM
Saturday 12-5PM