When:
September 25, 2017 – September 29, 2017
all-day
2017-09-25T00:00:00-04:00
2017-09-30T00:00:00-04:00
Where:
The Gales Gallery, Accolade West Building, York University
89 York Blvd. Toronto
Contact:
Department of Visual Art & Art History
416-736-5187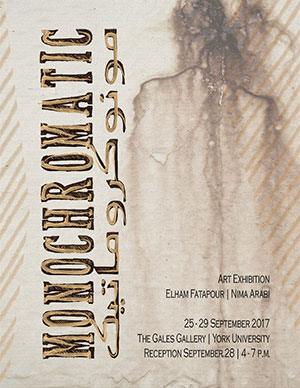 Monochromatic
is a mixed media exhibition by upper level Visual Art students Elham Fatapour and Nima Arabi. Iranian – born Canadian artists, their art for this exhibition reflects their own unique point of view on humanity. The title
Monochromatic
 represents old memories in this show — blurry, unclear, and forgotten forms in present reality.
Monochromatic
is the artists' effort to reveal hidden facts.
Reception:
September 28, 4-7pm
Gallery Hours:
Mon. – Thurs. 10am – 4pm.
Admission is free and all are welcome
Nima Arabi is an Iranian-Canadian indie-artist who found his passion for art with calligraphy when he was a teenager. This passion became a reason for him to attend in the Graphic Major in Art School. He continued his study in Textile and Fashion Design program at the Art University of Tehran. Nima immigrated to Toronto in 2013. He is currently in his last year of study in the visual art program.
Elham Fatapour is Toronto based visual artist from Iran. Her work is charged with empathetic visions, reified into mixed media installations involving painting and performances.