Pianist Shoshana Telner leads a masterclass with young artists from the classical piano performance studio of York University Music Professor Christina Petrowska Quilico.
Observers are welcome at the masterclass, but please use discretion when entering and exiting the hall.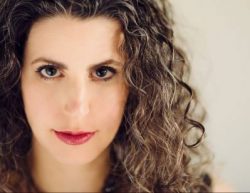 Canadian pianist Shoshana Telner  has performed across Canada and abroad. Described as  "an authentic musician with a sparkling technique" (Le Droit) and "full of fire and warmth" (The New York Times), Telner made her solo orchestral debut with the National Arts Centre Orchestra at the age of 16 and has since appeared as soloist with several other orchestras including the Québec Symphony Orchestra, Boston Classical Orchestra and National Academy Orchestra. Festival engagements include the Ottawa International Chamber Music Festival, Elora Festival, Kincardine Summer Music Festival and Brott Music Festival. She has been awarded honors at the CMC International Stepping Stone Competition, the Esther Honens International Piano Competition, and the Canadian Concerto Competition. Her recordings include solo works by Canadian composer Colin Mack (2009), J.S. Bach's keyboard partitas (2012), and Grieg's violin/piano sonatas with Jeremy Bell (2015).
Telner earned her Bachelor's degree on full scholarship from Boston University and holds a Master's from the Juilliard School and a  PhD in performance from McGill University. She has taught piano and coached ensembles at McGill, the University of Ottawa and Wilfrid Laurier University, and currently teaches piano at McMaster University. She frequently gives masterclasses, adjudicates competitions and serves as an examiner for the Royal Conservatory of Music.