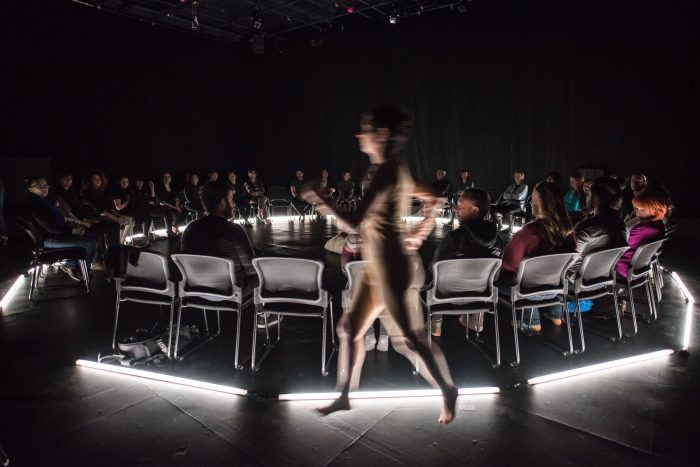 Jess Dobkin in The Magic Hour at The Theatre Centre, 2017. Photo by Dahlia Katz.
Join us at the home of Sensorium Student Caucus member Melanie Wilmink for an evening of conversation between Sensorium Graduate Student Caucus member Signy Lynch (PhD Student, Theatre & Performance Studies) and Laura Levin (Theatre & Performance Studies). They will be discussing Laura's new book project on performance and political culture in Canada, as well as the performativity of digital activism on social media platforms and in emerging social movements.
Preceding the talk will be an informal potluck dinner! Please RSVP to Michael Palumbo at <info@palumbomichael.com> for location.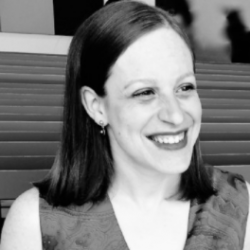 Laura Levin is Associate Professor of Theatre & Performance Studies at York. She is associate editor of Canadian Theatre Review (former editor in chief); editor of Theatre and Performance in Toronto and Conversations Across Borders (with Guillermo Gómez-Peña); co-editor of Performance Studies in Canada (with Marlis Schweitzer); and co-editor of journal issues on space, technology, and political performance. Laura is author of Performing Ground: Space, Camouflage, and the Art of Blending In, winner of the Canadian Association for Theatre Research's Ann Saddlemyer Award. She is currently writing a book on performance and political culture in Canada and co-editing a CTR issue on Choreographies of Assembly (with Alana Gerecke). Her writing on the Women's March and its relation to feminist performance art was recently commissioned by The Theatre Centre and appears here. Laura's research focuses on contemporary theatre and performance art; performing gender and sexuality; site-specific and urban intervention; intermedial, digital, and political performance. She is co-investigator for the SSHRC Partnership Canadian Consortium on Performance and Politics in the Americas.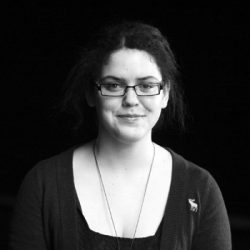 Signy Lynch is a PhD student in the Department of Theatre and Performance Studies at York. Her research investigates how direct audience address in contemporary performance can help audience members and performers to negotiate the complexities of inhabiting a twenty-first century globalized Canada. Signy is a member of the Centre for Spectatorship and Audience Research at the University of Toronto and secretary of the board of Cahoots Theatre.
---
Salons are organized and hosted downtown by the Sensorium Graduate Student Caucus. Following a potluck dinner, invited speakers are paired with a graduate student for an informal presentation and conversation about their work. All are welcome to attend!