When:
January 29, 2017 – February 8, 2017
all-day
2017-01-29T00:00:00-05:00
2017-02-09T00:00:00-05:00
Where:
Special Project Gallery, Main Lobby, Joan & Martin Goldfarb Centre for Fine Arts, York University
86 Fine Arts Road
Toronto
Contact:
Department of Visual Art and Art History
416-736-5187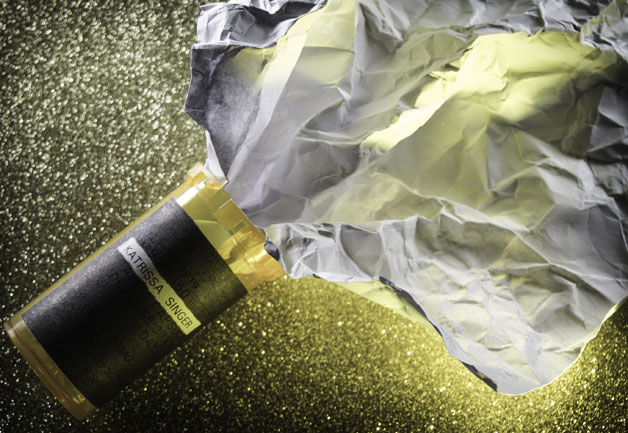 Spoonderland, a solo exhibition by fourth-year visual arts student Katrissa Singer, is an eclectic mix of assemblage art, street art, documentary and artistic photography informed by the artist's own experience of navigating life with multiple chronic health conditions.
With this show, Singer aims to facilitate compassion and understanding across the spectrum of abilities.
Artist's Statement
Living with a chronic illness or disability is an experience that is very difficult to articulate, especially to people who do not face the same challenges. 'Spoon theory' is a metaphor created by Christine Miserandino, an activist who lives with chronic illness, to illustrate the often severe energy limitations faced by people with chronic illness, and the way these limitations impact their lives.
Message in a Bottle amplifies the voices of people living with chronic illnesses and disabilities, visible or invisible, physical or mental, as well as the voices of those who experienced life-changing consequences as a result of temporary or acute illness.
Love Letters to Myself is a record of a street art project focused on self-compassion.
Three-dimensional works made from recycled pill containers ("Doesn't Take a Holiday" and "Pilleidoscope") illuminate, through the use of metaphors, various facets of 'Spoon Life'.
–  Katrissa Singer
Gallery Hours
Monday – Thursday, 10 am – 4 pm
Opening Reception & Artist Talk
Sunday, Jan. 29, 2 – 6 pm
At 3 pm, Katrissa Singer will give a brief talk about her creative practice.  Visitors will have the opportunity to view and interact with the objects that were photographed for Singer's "Message in a Bottle" project, that focused on collecting authentic narratives by people living with chronic illness or a disability.
The Special Project Gallery is wheelchair accessible. Patrons can enter the Goldfarb Centre via the south door of the Centre for Film and Theatre.
Campus map & directions
Admission is free – all welcome