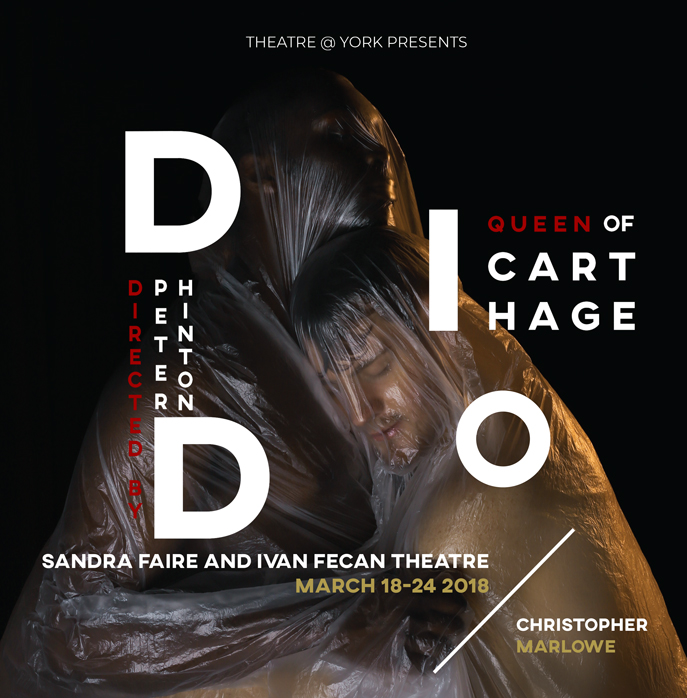 "Worlds of Exile," Theatre @ York's 2017-18 season, culminates in Christopher Marlowe's Dido, Queen of Carthage, an epic story in an intimate and innovative new production directed by acclaimed director, dramaturg and playwright Peter Hinton.
Shadowed by war, Dido, Queen of Carthage is the original tragic love story with its hero Aeneas, the exiled prince of Troy, compelled by Fate to leave his beloved Dido, Queen of Carthage to fulfil a political destiny. Aeneas, the son of Venus, is one of the Trojans who escapes from the city after it is destroyed. In his exile he seeks refuge in Carthage. Learning of Aeneas' experience and loss, Dido falls in love with him, only to be forsaken shortly after. Torn between her personal abandonment and national sacrifice, Dido performs an ultimate act of resistance.
Dido, Queen of Carthage is Marlowe's first play, written when he was just 19 and still a student at Cambridge. Inspired by the fourth book of Virgil's Aeneid, the story of Dido and Aeneas has stimulated artists for two millennia; from Ovid to Henry Purcell to modern-day science-fiction like Battlestar Galactica, with its exiled travellers seeking a prophesied new home. It isn't hard to see the story's appeal.
Performance Schedule: March 18 to 23 at 7:30pm
Box Office Information: Tickets are available online or over the phone 416-736-5888
Previews: $7.00 March 18 & 19
Relaxed Performance: $5.00
Thursday March 22  7:30pm
All Other Performances:
Tickets: $20.00
Student/Senior $12.00
Groups of 10 or more : $10.00
(Group price applies when all group tickets are purchased at once for a single performance. Not available online, please phone or visit the box office)
Sold-out Show Advisory:  Cash only Rush Seats are usually available at the door for sold out shows. If the show is sold out, please check back as seats may become available.  There is NO GUARANTEE that seats will come available and the timing of seats coming available varies. We recommend booking early & coming early!