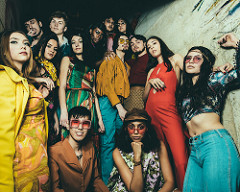 50 years since its founding, Theatre @ York opens the 2018-2019 season with the premiere of rochdale, a new play by David Yee under the direction of Nina Lee Aquino, featuring the fourth-year acting ensemble.
Opened in 1968, Rochdale College was an experiment in student-run alternative education and co-operative living. The project ultimately failed when it could not cover its financing and neighbours complained that it had become a haven for drugs and crime.
"We are delighted to open our season with a new Canadian play that embraces the same spirit of experimentation and social advocacy that guided the founding of the Department of Theatre at York 50 years ago," commented department chair Marlis Schweitzer. David Yee and Nina Lee Aquino have collaborated on a play that not only gives voice to the youth, energy, and passion of the 1960s but also resonates with students today. We are incredibly fortunate to have such Canadian innovators kick off this season, as we reflect on the past 50 years and look ahead to the future."
David Yee is a Canadian actor, playwright and the artistic director of fu-Gen Theatre Company. His play carried away on the crest of a wave won the 2015 Governor General Award.
Nina Lee Aquino is an award-winning director and dramaturge, and the Artistic Director of Factory Theatre. She is committed to the development of new works, and to the manifestation of interculturalism in theatre.
Performance Schedule:
7:30 p.m. on November 17, 19-23
1:00 p.m. on November 21 & 23
2 p.m. on November 24
Tickets $7- 20
Online Box Office  or call 416-736-5888
Sold-out Show Advisory:  Cash only Rush Seats are usually available at the door for sold out shows. If the show is sold out, please check back as seats may become available.  There is NO GUARANTEE that seats will come available and the timing of seats coming available varies. We recommend booking early & coming early!