When:
November 5, 2019 @ 9:00 am – 5:30 pm
2019-11-05T09:00:00-05:00
2019-11-05T17:30:00-05:00
Where:
Sandra Faire and Ivan Fecan Theatre, Accolade East Building
4700 Keele St. Toronto ON M3J 2S5
Toasterlab is delighted to announce our first Mixed Reality Performance Symposium, hosted by the Sensorium: Centre for Digital Arts and Technology at York University. The event is free and open to the public!
This event is free and open to the public!  REGISTER HERE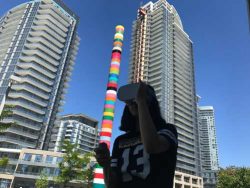 Event Information
The Mixed Reality Performance Symposium: York is the first of six symposiums hosted by mixed reality producers Toasterlab, and will explore extended and mixed reality performance. Artists and new media creators will share modes of working and recent successes in VR, AR, and immersive theatre. Funded by the Canada Council for the Arts, Toasterlab's Mixed Reality Performance Atelier is a two-year deep dive into the current mixed reality methods used by theatre and performance makers across Canada and the U.S. The full program is forthcoming. We're excited to see you there!
Presentations include: