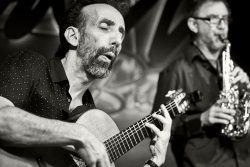 KatzTollar
(Brian Katz, guitar/piano/vocals; Ernie Tollar, sax/bansuri flute/ney)
The Duo will perform original compositions in the "world jazz" genre. Their music is rooted in the modern jazz tradition and extends outwards to embrace elements of Middle Eastern, klezmer, East Indian, classical and various world music traditions.
Brian Katz is widely acclaimed for his personal approach to playing modern jazz and klezmer music on the classical guitar, and for his evocative compositions; saxophonist/ bansuri flautist/ney player, Ernie Tollar for his outstanding ability to synthesize diverse musical traditions. Of "Leaves Will Speak," Brian Katz's recent solo guitar recording, music critic, Stanley Fefferman of Opus 1 Reviews writes: "The whole vibe is Brian's own blend of classical, medieval, Spanish, Jazz, Blues, finger-picking Folk, Greek, Middle Eastern and Klezmer— you can hear all those threads in the weave of this album's harmonic fabric. You can enjoy the play of musical intelligence on this album, and dig into a rich horde of experience gathered along the way of Brian's 30 year international career."
Ernie Tollar performed his first professional gigs at age 16 and has since toured Europe, India, Egypt, Kapuskasing, U.S.A., Argentina, Mexico and Canada. He has performed and recorded with an incredible array of artists including Holly Cole, Kenny Wheeler, Trichy Sankaran, Joe Lovano, Maze Mazé, Space Trio, as well as several bands with his wife, vocalist Maryem Tollar; their collaborative 2009 recording, "Cairo to Toronto," garnered them a JUNO award nomination.
Admission is free.