When:
January 7, 2019 – January 17, 2019
all-day
2019-01-07T00:00:00-05:00
2019-01-18T00:00:00-05:00
Where:
Special Project Gallery, Joan and Martin Goldfarb Centre for Fine Arts, York University
86 Fine Arts Road
Toronto
Contact:
Department of Visual Art & Art History
416-736-5187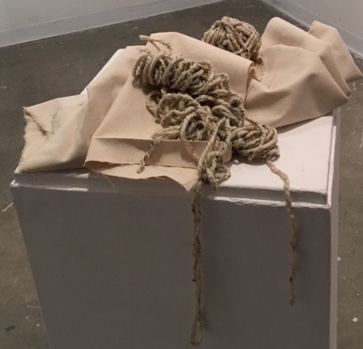 Fifth year Visual Art student Eszter Rosta's solo show Woven, explores materiality, physicality, and objecthood in a number of large-scale raw canvas works.
"I want to play with the prominence of the shape through the materials in question and natural pigmentations such as teas, coffee grounds, plants, etc. Furthermore, I also intend to represent the objecthood of the canvas, by showing them for the canvas that it is – the actual fabrication of the material, the complexity of its weaving, and its natural reference to plants, through processes of manipulation and human imprint.
IMAGE: Eszter Rosta's Substance (a) – 2018
Gallery Hours:
Mon. – Thurs. 10am – 4pm.
Admission is free and all are welcome